It's February, and you know what that means. Hearts, chocolate, and love, alongside a healthy flexing of Cupid's bow arm. Yes, it's Valentine's Day. Again. While it might seem like just yesterday you were fretting over ways to impress your significant other, it was a year ago. Time to start fretting all over again. But wait! If you're in Paris for the special day, or have booked a trip over to make the most of the City of Lights' famed romantic charm, you're in luck. Unsurprisingly, there's a whole bunch of romantic fun to be had there. All you'll need is to pick up a gift. And wrap it. Wrap it well. Here are the best things to do in Paris this Valentine's Day.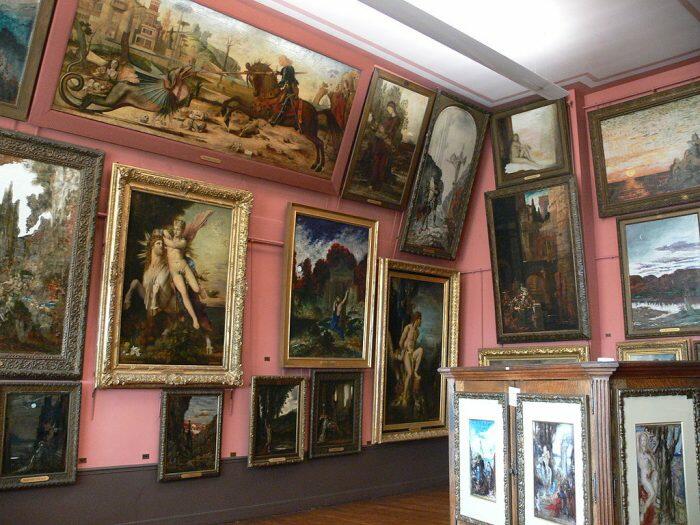 photo by Andreas Praefcke
All of the major museums in Paris will be packed this Valentine's Day. Since waiting in seemingly endless queues is the exact opposite of romance, why not surprise your loved one with a trip to a more intimate affair? The Gustave Moreau National Museum is both sumptuous and a bit off the beaten path. Moreau was a 19th Century painter and an important artist in the French Symbolist movement. His paintings can be characterised as otherworldly, and draw from mythological as well as biblical figures. The Museum was once the painter's home and features original Louis XVI furniture, personal mementos, as well as over 1,300 paintings and 5,000 drawings. So why not get up and close with some inspiring paintings, and inspire some up and close romance with your Valentine?
Address: 14 rue de la Rochefoucauld, 75009, PARIS 
Hours of Operation: 
Wednesday - Monday- 10:00 a.m. - 6:00 p.m.
Ticket price: 7€
Chocolate might be a traditional Valentine's Day offering, but if you're really sweet on someone, why not go one step further with a visit to the Gourmet Chocolate Museum? The start of the exhibit traces the many uses of the cacao bean by Ancient Mayans and Aztecs over 4000 years ago. They also have an 'all you can eat' international chocolate sampling section. Impress your date with your worldly knowledge of the planet's different chocolates. Just do a little research ahead of time so you don't embarrass yourself. Then, visitors can watch the fabrication process in the 'Demonstration Centre', as the Museum has chocolatiers on site. And, if buying chocolates seems a little played out, why not make some chocolates of your own at one of the chocolate workshops? Imagine your dates' face when you stroll in, sleeves up, chocolate smudges on your face. Really, is there anything more romantic? No. There isn't.
Address: 28 Bd de Bonne Nouvelle,75010, PARIS 
Hours of Operation: 
Monday - Sunday- 10:00 a.m. - 6:00 p.m.
Ticket price: 12€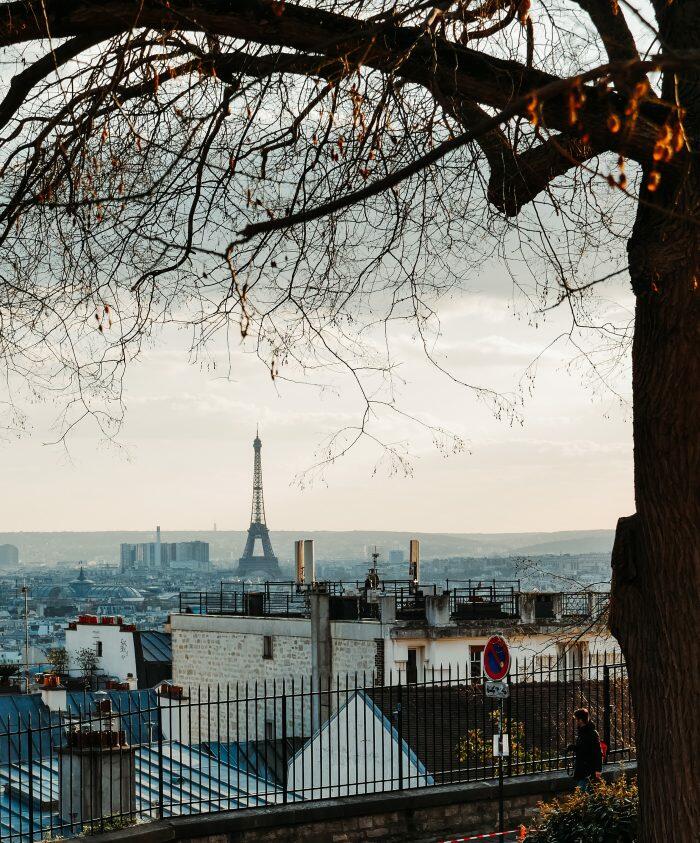 Montmartre is unlike any neighbourhood in Paris, perhaps because it only became part of the city in 1860. It's best known for the many famous artists who once called it home, as well as the Moulin Rouge cabaret, and nightlife. To this day, Montmartre still has a vibrant cultural heritage. Did we mention that one of the most spectacular views of Paris can be found from the top of the hill in front of Sacré-Coeur? What better way to learn about the area's history, and get some insider information on excellent local restaurants and shops, than to take a guided walking tour? Besides, during the tour you might just find the perfect bistrot for a romantic patisserie and dessert.
Meet point: Blanche metro stop (line 2), in front of the Starbucks 
Tour time: 2:00 p.m. // 7 days a week
Tour duration: 2 hours 
Ticket price: 29€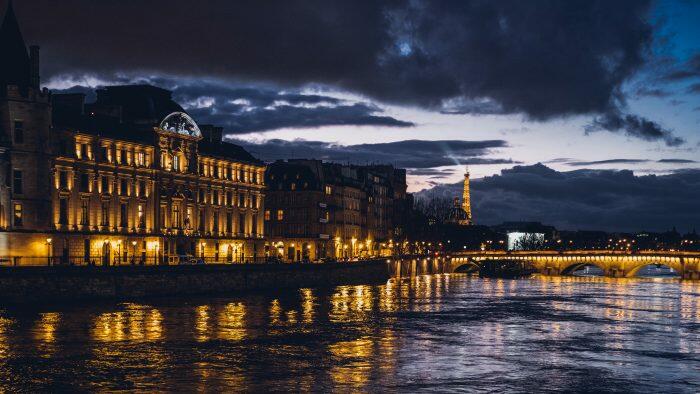 Cruising the Seine at night is magical. But a cruise and a romantic dinner featuring live music on Valentine's Day is in another league altogether. The Bateaux Parisiens, a staple in Paris' cruise lines, is offering a premier fine dining experience aboard one of their vessels. Including a five-course meal, 2 glasses of Champagne, and two different kinds of wine, get ready to take a voyage in French gastronomy. The cruise ends at the stroke of midnight, so why not take a leisurely stroll on the banks of the Seine when you disembark?
Address: Port de La Bourdonnais, 75007, PARIS
Date: February 14, 2020
Departure Time: 8:30 p.m.
Cost per person: starting at 150€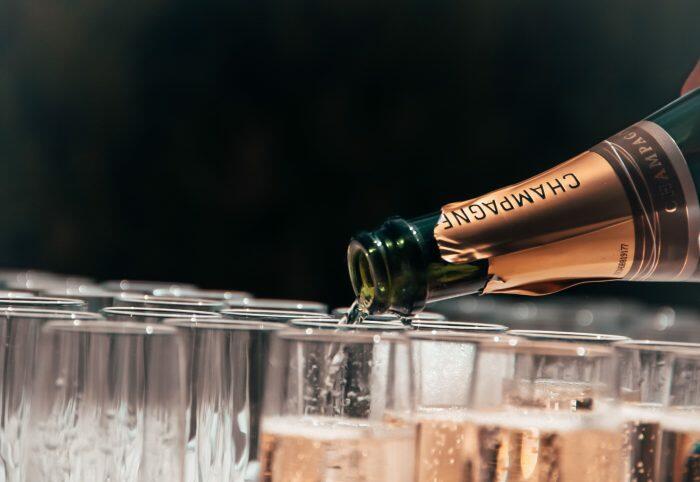 If cruising the Seine isn't your style, then how about a Valentine's Soirée at an amazing wine bar? Ô Chateau Wine Bar is right in the heart of Paris' 1st arrondissement, and is renowned for its wine tastings and a wide variety of international spirits. Your Valentine's meal will feature three courses, as well as one glass of Champagne and two glasses of wine. Since the Wine Bar is situated near the Palais Royal and Tuileries Gardens, we recommend that you and your other half take a quiet walk through the parks before your meal. Or after, if you want to burn off the inevitable calories.
Address: 68 Rue Jean-Jacques Rousseau, 75001, PARIS
Dinner Time: 7:00 p.m.
Ticket price per person: 80€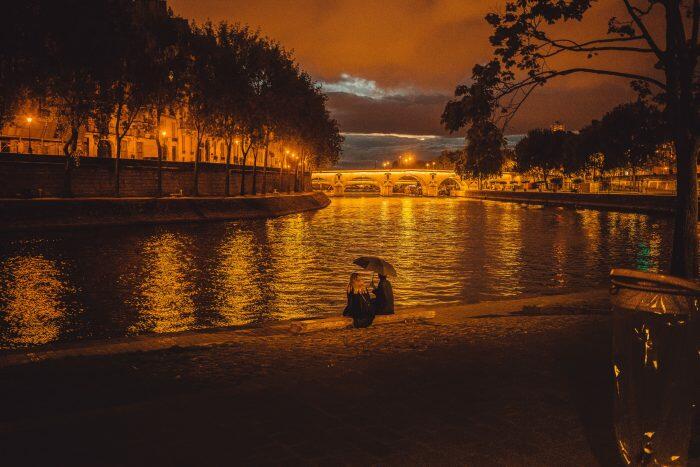 Evening Stroll through Belle Paris 
If, however, you want to keep things simple and let the atmosphere do the talking, we highly recommend a stroll through old Paris at night this Valentine's Day. All of the monuments and bridges are lit up, and the city seems almost surreal in its beauty. For added effect, cross one of Paris' many bridges to share a special moment on your date.
Also, on your way home, why not stop at one of the many cafés and bistrots that are open late for a hot chocolate or nightcap? If Paris is for lovers, this is your night.