Discover one of Paris' unique spots and visit the Wall of Love with the Paris Pass
As one of the most romantic cities in the world, it should come as no surprise that there's literally an entire attraction dedicated to love. Whether you're looking for the Instagram backdrop or a cute date spot with your other half, this artistic installation has been visited by all the Parisian and globe-travelled lovers of the world and remains a popular attraction. Known as Les Mur des Je t'Aime in French, even the most jaded person can't help but be charmed by the sweet sight and the loved up couples that always seem to be dotted around it.
Wall of Love Paris - history
The story behind this wall is pretty amazing as well, as it was designed by two artists called Frederic Baron and Claire Kito. Covered in 312 different ways to say 'I love you' in numerous languages, Baron literally went door to door asking embassies, neighbours and strangers how to say the most romantic words in every tongue. He wasn't alone either as he was helped by a poet named Jean-Claude de Feugas as well, who helped collect the phrases. In fact, the words on the wall are just a drop in the ocean as Baron filled three gigantic notebooks with hundreds more, but curated those that he thought were the most beautiful. All 192 of the nations that are represented by the United Nations are on there which is a huge accomplishment.
Claire Kito, a calligrapher specialising in Chinese art and characters, then stepped in and brought them to life by creating beautiful white typography for the project — set against 612 dark lava tiles which are said to resemble Baron's notebooks. Throughout the piece, you'll also be able to spot splashes of crimson which according to the official website are 'the pieces of a broken heart, those of a humanity which is too often torn apart and which The Wall attempts to reunite'.
Unsurprisingly, the Wall of Love has been the site of many romantic occasions including proposals, engagement photo shoots and undying declarations of commitment. From Afrikaans to Korean to Tamil, it's a real testament to the universality of emotion and human connection plus you'll find some gorgeous new phrases to make sure you're spreading the love. With a number of benches dotted around the area, it's worth grabbing a seat and spending a good twenty minutes letting the weight of the world's love sink in and let the words roll off your tongue.
Ten Ways To Say I Love You
Je t'aime - French
Ti Tengu Cara/Caru - Corsican
Eu Amo-te - Portuguese
Ndagukunda - Kinyarwanda
أنا بحبَك/ بحبِك - Arabic, pronounced a-na ba-he back
사랑해 - Korean, pronounced saranghae
Ich liebe dich - German
I love you - English
Ti amo - Italian
我爱你 - Simplified Mandarin, pronounced wo ai ni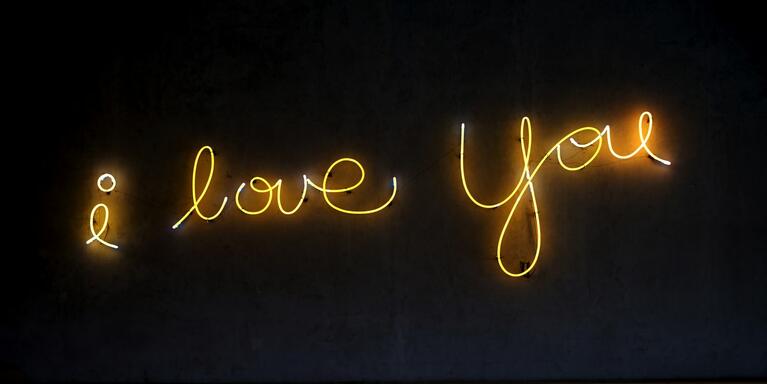 Wall of Love Paris Address - Getting there
If you're looking to pop it into Google Maps or another travel app of your choice, the exact address is Square Jehan Rictus, Place de Abesses, Butte Montmartre 75018 Paris.
Things to do around the Wall of Love
The Wall of Love is located in the endlessly trendy Montmartre neighbourhood, which is packed with tourist attractions and cool offbeat things to do for Parisian veterans. We've actually put together a little neighbourhood guide to Montmartre, however here's a selection of highlights to fall in love with…
Sacre Coueur
The gigantic white domed church that sits on top of the arrondissement, boasting stunning architecture and an unbeatable view over the city.
Cafe des Deux Moulins
Loved the film Amelie? This little cafe is the spot where the quirky main character worked and given that it's one of the most romantic French films of all time, you'll be able to keep the love going. Discover some of the best cafes in Paris with our comprehensive guide.
Moulin Rouge
Easily spotted by its gigantic neon windmill blades, the Moulin Rouge is the perfect place for an iconic photograph - or if you have some deep pockets - a high energy can-can performance in one of the most famed locations in the world. Nicole Kidman and Ewan McGregor not included.