The Centre Pompidou is an iconic landmark in Paris for its controversial architecture, but more importantly its world-class collections of modern art. As Europe's most important modern art museum, rivaled only by New York's MOMA, and one of the most popular Paris art galleries - a visit to Centre Pompidou will leave you inspired and intrigued.
With thousands of works from Pop Art to Cubism, you can see it all at the Centre Pompidou. But before you go, here are 25 facts and figures to give you a bit of insight.
The Centre Pompidou was built right in the center of Paris, equidistant from Notre Dame Cathedral and the Louvre Museum
The Centre Pompidou could be considered ironic in its medieval quarter, with its juxtaposing modern façade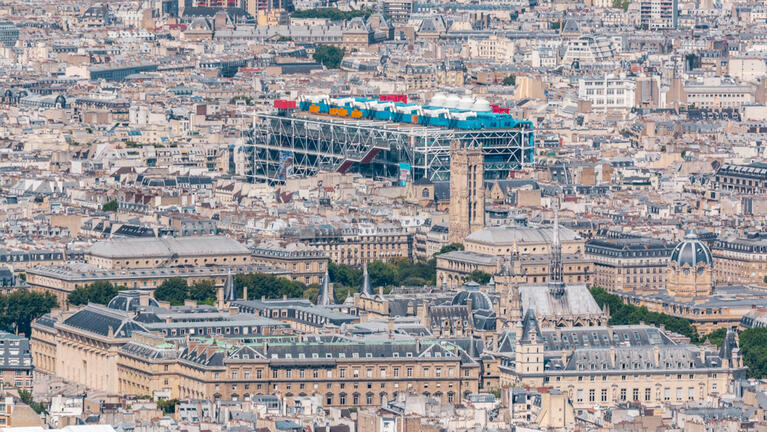 As the brainchild of President Georges Pompidou, the museum was commissioned to provide a cultural center focused on and championing only all modern art
Whilst it was in its inception, a national competition ran to design the building. Out of a total of 681 entries, the build was won by the Piano + Rogers team
The grand total of the construction cost of Centre Pompidou was a staggering £58,800,000
Having opened in 1977, it was decided it would be named after the French President, who's idea it was in the first place, Georges Pompidou
The multicolour façade is a subject of much debate in Paris and many French people didn't (and still don't) like the appearance of the building and compare it to a boiler house or an oil refinery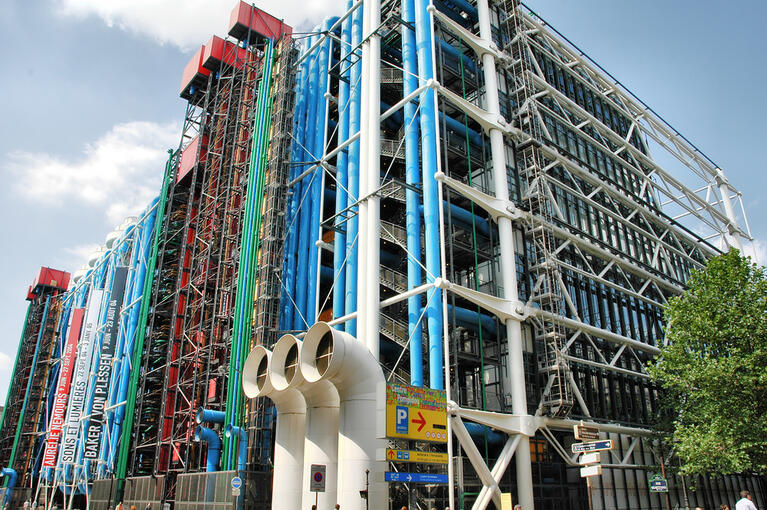 Unlike any other building in Paris, all the plumbing, electrics, air circulation, wires and pipes - and even the escalators - are on the outside of the building giving the museum its unique appearance
Actually all of the functional external elements of the building are colour-coded: green pipes are plumbing, blue ducts are for climate control, electrical wires are encased in yellow, and the red ones are circulation elements and health and safety
The Pompidou Centre is also famous for its public library which is fully stocked with almost 500,000 books as well as other media. It can easily accommodate 2,000 readers, too, and if you're not a French speaker, you can even watch television shows from around the world
The Centre Pompidou contains over 50,000 works of art, including paintings, sculpture, drawings and photography
When forecasting visitor numbers, the museum now welcomes over five times as many visitors as the building was meant to – going from 5,000 to 25,000
The most popular exhibition to date has been the 2013 retrospective "Dalí" exhibition which broke the museum's daily attendance record; 7,364 people a day went to see the artist's work (790,000 in total over the whole exhibition)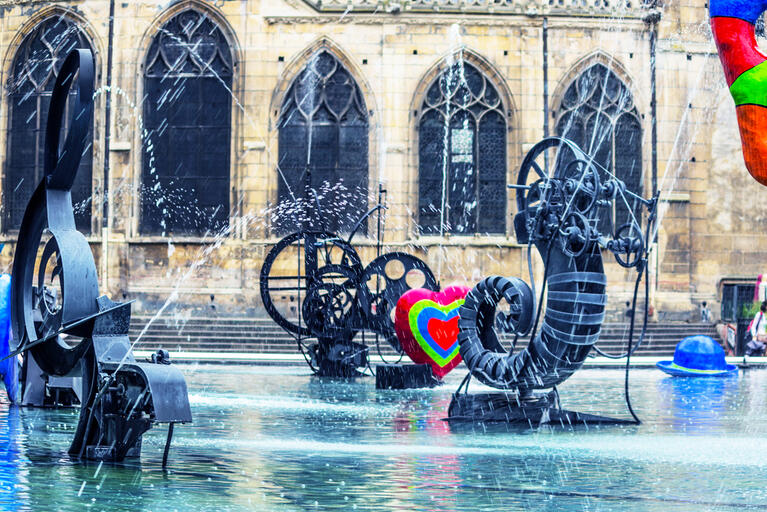 It's not only what's within Centre Pompidou that's impressive, but without, don't miss the famous Stravinsky fountain in Paris in the Beaubourg square in front
Centre Pompidou is also home to the Musée National d'Art Moderne, which lies across two floors, which make it the largest museum for modern art in Europe
Totally, the museum covers 2 hectares (5 acres) with a floor space of 103,305 m2
The Centre Pompidou in Paris is not the only one of its kind in the world, in 2010, the Centre Georges Pompidou opened a provincial branch, the Centre Pompidou-Metz, in Metz a city 170 miles east of Paris
Centre Pompidou sits in a bustling part of Paris, in Les Halles, where just outside the museum you can find street artists, mimes, jugglers, budding artists and musicians
One of the best panoramas in Paris is on the roof top terrace of the Centre Pompidou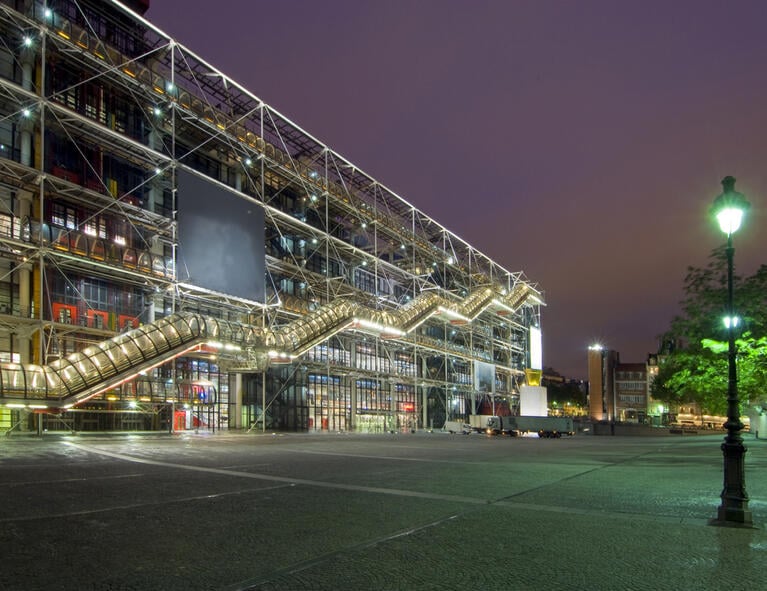 Centre Pompidou is the third most visited Paris attraction with about 5.5 million visitors a year
The Centre Pompidou's nickname is 'Beaubourg'
Although the Centre Pompidou contains over 50,000 works of art, only about 600 works can be seen at any one time as most of them are in storage, waiting to be re-hung and re-curated every year
As the Musée National d'Art Moderne, the Centre Pompidou contains France's national collection of art dating from 1905 onward featuring the fauvists, cubists, and surrealists, as well as pop art and contemporary works
It was confirmed last year in April 2014, that there would be new Pompidou Centres in Málaga, Spain, next, and then Mexico
The Centre Pompidou has even featured in a James Bond film, Moonraker (1979), as Holly Goodhead's office at Drax's space-shuttle plant which was actually a fifth floor room of the Pompidou Centre
This fascinating modern art museum, gallery and library will have you entertained for hours. A staggering six floors of modern and contemporary art to admire, not to mention a roof top terrace to explore – it's no wonder Centre Pompidou is one of the most popular places to visit in Paris.
Now you can work out its color-coordinated exterior and make up your own mind on whether you believe it's a feat of modern engineering and architecture, or whether like some, you consider it an eyesore of an oil refinery!