There's more to Salvador Dalí than just his moustache, discover more interesting Dalí facts below
Eccentric, divisive and visionary are just a few words to describe Spanish artist Salvador Dalí and it's hard to say if there are any number of words that could encapsulate his complex extravagance. With a colourful past and an extensive body of work, there's so much to learn about the surrealist painter - here's some facts about Dalí to prepare you for the Espace Dalí Exhibition at the Dalí Museum.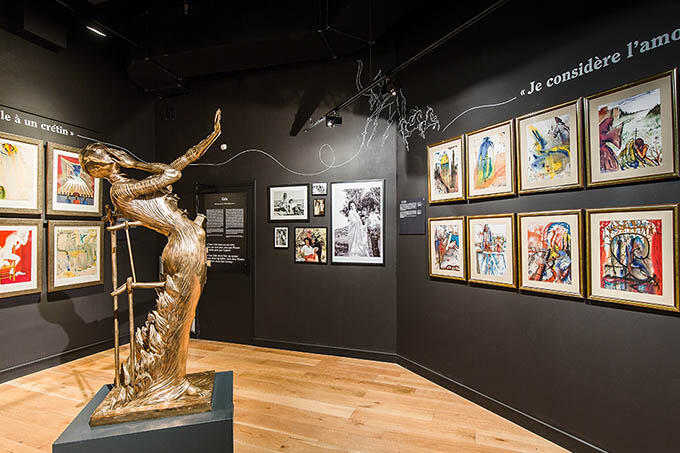 Dalí once collaborated on an experimental animated film with Walt Disney
Salvador Dalí and Walt Disney's film Destino only recently came to light in 2003, when Disney released the short film for the very first time to the public. It was first storyboarded in 1945 but World War 2 took a toll on Disney, so its production was halted until 1999 when Walt Disney's nephew Roy E. Disney unearthed it. Combining Dali's surrealism with the myth of the time god Chronos, it depicts a love story between the god and a woman named Dahlia.
Dalí believed he was the reincarnation of his brother, also named Salvador
Nine months before Dalí was born, his older brother Salvador passed away from a stomach infection. His parents named Dalí after him and due to his eerily similar appearance, his parents told him when he was five years old standing over the grave of his brother that he was his reincarnation. These ideas of reincarnation and references to his older brother permeate Dalí's works, suggesting that it had a big psychological impact on him.
To avoid paying restaurant bills, Dalí would draw on the backs of cheques
Dalí wasn't quite the dine and dasher, but he did cheat his way out of a few hefty restaurant bills. After hosting extravagant dinners for himself and a few friends, he would write out a cheque then scribble a drawing on its back. As nobody wanted to pass up the chance to own a Dalí original, more often than not restaurants wouldn't cash in the cheques.
Dalí had no illusions about commercial art
Dalí was practical in his approach to creating art, using his talents to create commercial pieces for big brands and for big bucks as well as endorse products himself in videos. His fellow artists viewed him as a sellout and nicknamed him 'Avida Dollars', an anagram of his name that translates to eager for dollars. Some of his most notable commercial accomplishments include the Chupa Chups and 1969 Eurovision logo, a jewellery line and he also appeared in commercials for brands like Alka Seltzer.
Dalí had extravagant taste and that carried through to his pets
Salvador Dalí had an ocelot named Babou, who he trotted around on a studded leash and collar  to social gatherings and restaurants. Famously in Manhattan, Dalí took Babou to a restaurant where a fellow patron became frightened and he reassured them by explaining that his ocelot was simply 'painted over in an op art design'. If an ocelot named Babou sounds at all familiar, you won't have to look much further than the cartoon Archer and Cheryl's pet.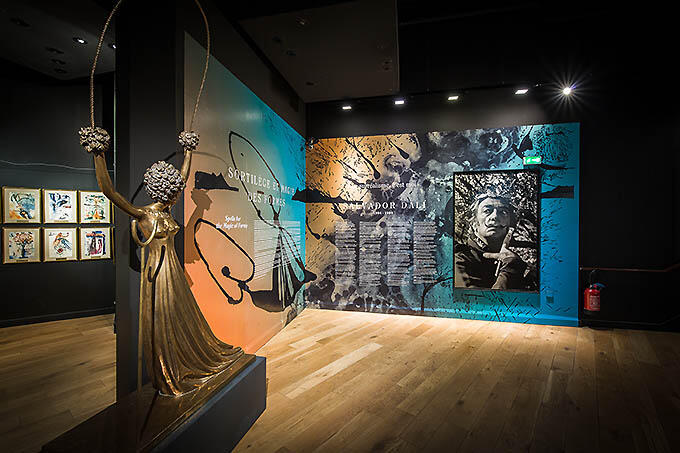 Dalí was well known for his bizarre antics
From arriving at a lecture dressed in a diving suit and helmet (which someone had to break him out of with a spanner when he nearly suffocated) to taking a Rolls Royce Phantom II filled with cauliflowers on a Spain-Paris road trip, Dalí was renowned for being just as surreal as his works. He also became obsessed with Hitler at one point, going as far as to paint a depiction of Hitler masturbating surrounded by horses.
Dalí wanted to be expelled from art school and got his wish
Dalí was expelled from the same art school not just once, but twice. While studying at the Academia de San Fernando, he was accused of inciting a student protest when the painter Daniel Vásquez Díaz was passed over for a professorship and expelled in 1923. He was allowed back in 1926, but again was thrown out when he told the panel assessing him that none of them were competent enough to judge him.
Dalí was married to Gala, who he met while she was already married
Elena Ivanovna Diakonova, who is better known by her nickname Gala, was initially married to surrealist poet Paul Eluard and Dalí fell immediately in love with her upon meeting her in 1929. Eluard and Gala were known for having an open marriage, but she eventually divorced him for Dalí (who she also had an open marriage with).
While Dalí was a defining figure of surrealism, he was expelled from the Surrealist Movement in 1934
His feud with André Breton, the leader of the Surrealist movement at the time, as well as his glorification of Hitler's Germany and neutral stance against Francisco Franco eventually led to his expulsion from the group, however he continued to be featured in their exhibitions.
In Dalí 's later years, he lost the ability to paint which sent him into a deep depression
At the age of 76, Dalí was diagnosed with a motor disorder named palsy which made it impossible for him to paint, let alone hold a brush. Coupled with his changing and sometimes violent attitude to his open marriage with Gala, her eventual death and his inability to create art left him utterly depressed.