Here's a clash of the titans if ever we saw one! Limbering up in le bleu corner is the world's largest and most popular art museum, home to some of the most iconic images in Western art, and former royal palace of some 900 years' standing… it is of course the mighty Louvre Museum! It's opponent in this battle of the bucket-list biggies is no shrinking violet either: in le corner rouge (please pardon our French) is the picture-perfect palace of Versailles, a fairytale edifice of quite magical beauty, and perhaps the planet's most celebrated château.
But which is better? Check out our comparison of the Louvre and Palace of Versailles to discover which is bigger, which contains the finest art, which has the better grounds, and which the, er, most windows.
The Louvre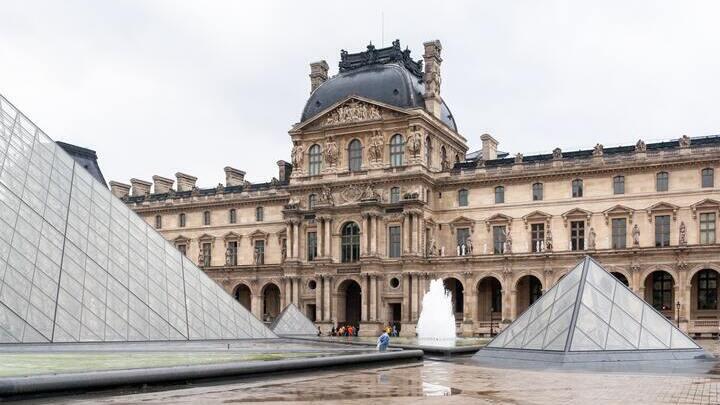 Name: Napoléon made significantly more of an impression on the Louvre than he did on the Palace of Versailles, grandly renaming the beloved art museum 'Musée Napoléon' during his reign from 1804-1815. The world's most comically extravagant château on the other hand he treated as a mere summer residence to be used casually then unceremoniously abandoned. Lifestyles of the rich and famous, eh?
Age: Built in the late 12th Century during the long reign of King Philip II, the Louvre Palace ceased to be used as a royal residence around 600 years later, paving the way for its rebirth as the Louvre Museum, which opened with its debut exhibition of 537 paintings in August 1793.
The Louvre in Brief: It isn't the world's most popular museum for nothing, you know. Inside the Louvre is where you'll find some of the planet's most recognizable works of art: the Mona Lisa, Venus de Milo and Winged Victory of Samothrace, to name but three. The 'big three' are complemented by another 40,000-ish pieces, ranging from Ancient Egyptian sculpture to medieval Islamic silverware, Roman statuary, Greek pottery and masterpieces by the likes of Caravaggio, Picasso, Michelangelo and Raphael. It's basically the entire history of human endeavor in one handy location. 
The Louvre in Numbers
Size:

it's only the largest museum on Earth, covering 652,300 square feet (60,600 square meters). The combined length of the museum's many labyrinthine levels is around eight miles.  

Artworks:

there are around 35,000-40,000 pieces on display at any one time, taken from a collection of in excess of 600,000 works of art from across the ages.

Panes of glass:

conspiracy theorists will tell you there are 666 panes in the courtyard's central pyramid, but it simply isn't true: in fact there are 673.

Visitors:

7.8 million art-lovers flock here every year, making the Louvre the world's most-visited art museum.
The Louvre: What to Expect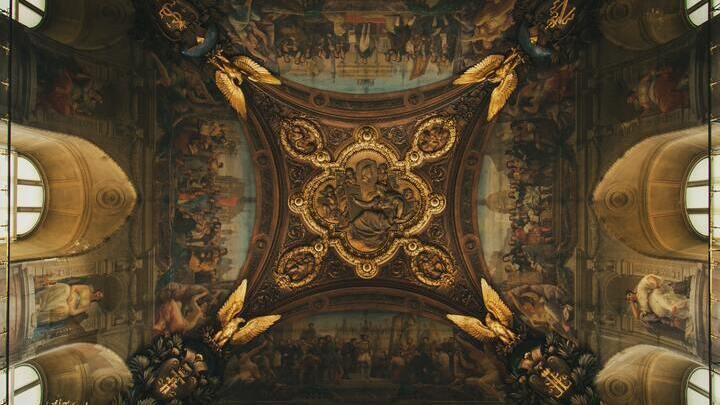 To say the Louvre can be a tad overwhelming would be an understatement: it's big, it's busy, and it would take you more than half a year to see all the beautiful art on display here. With that in mind, we recommend you grab a map and plan your must-sees in advance to maximize enjoyment and avoid wandering this cavernous palace in aimless frustration for hours on end. So yes, come for a glimpse of da Vinci's enigmatic Mona Lisa and the museum's' unparalleled collection of Hellenistic masterpieces, but be aware that you'll likely be viewing these over an ocean of heads. You might find it easier to get a good look at marginally less popular (but no less impressive) attractions like Géricault's Raft of the Medusa, Vermeer's Lacemaker, Caravaggio's Death of the Virgin, and the monumental Great Sphinx of Tanis. It's also worth taking a peep at how the other half live while you're here: Napoleon III's personal apartments come complete with lavish state dining rooms and a gilded drawing room in the 18th-century rococo style. It's almost as decadent as the Louvre café's sumptuous Mont Blanc, an unmissable culinary masterpiece that combines meringue, whipped cream and chocolate shavings.
Next up…
The Palace of Versailles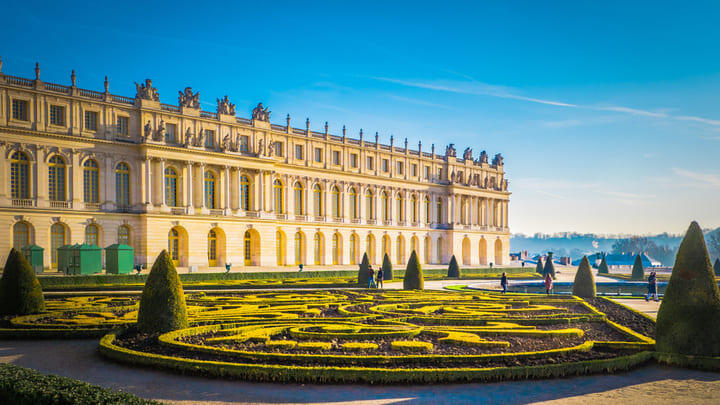 Name: The Palace of Versailles, or Château de Versailles, should you wish to practice your French on unsuspecting locals.
Age: Construction of Louis XIV's grand vision began in 1661 and was deemed complete by 1682, though subsequent French monarchs have made extensive revisions and remodelings to the château's original look down the centuries.
The Palace of Versailles in Brief: One of the most extravagant former royal residences on the planet, the Palace of Versailles lies a short distance west of Paris and is easy (and cheap) to reach by direct train. You could easily spend a day here, wandering the palace's vast interior and multitude of impossibly opulent rooms, pausing to admire the King's sumptuous private apartments and enjoy a moment of quiet reflection in the famous Hall of Mirrors. Across 2,000 epic acres, this grand royal estate also features manicured gardens peppered with precious statues (many of them hundreds of years old), plus ornate fountains, royal stables and tennis courts, and more masterpieces of 16th-19th century painting and sculpture than you could shake a heavily jewel-encrusted royal mace at.
The Palace of Versailles in Numbers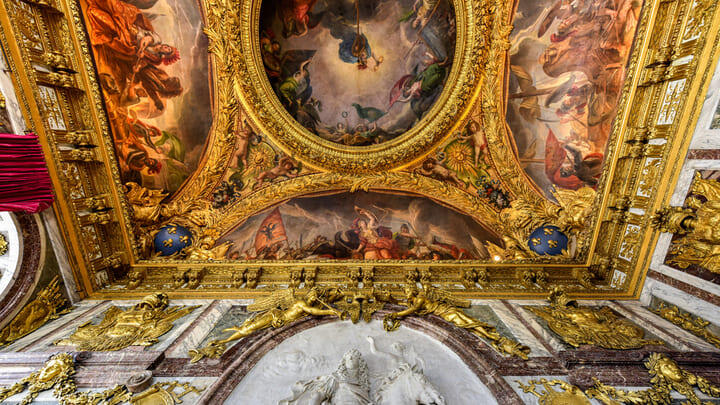 Size:

the palace covers over 700,000 square feet and sits on an estate of over 2,000 acres – well over twice the size of Central Park!

Artworks:

There are over 60,000 works in the Palace's collections, spanning the history of France from the Middle Ages to the present day, with a particular focus on 16th-19th century painting and sculpture.

Panes of glass:

there are 2,143 windows in the Palace of Versailles, a significant job for even the most industrious window cleaner.

Visitors:

A regal 15 million annually.
The Palace of Versailles: What to Expect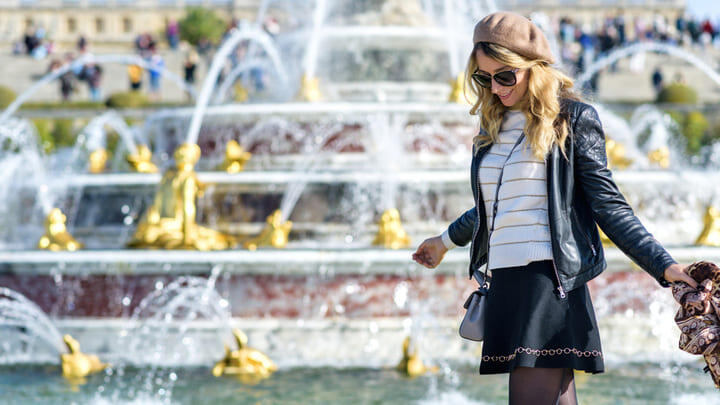 Sure, there's art here – and great art, too – but where the Louvre focuses almost exclusively on its collection, the Palace of Versailles provides a more rounded experience thanks to its lavish halls and splendid gardens. But let's begin with the art. There are around 100 rooms filled with the stuff, drawn from a collection of some 60,000 pieces founded by Louis-Philippe in 1837 and comprising paintings from the 16th-19th centuries. But there's more, so much more to see here! We're talking the likes of the Hall of Mirrors, a 73-meter corridor containing 357 mirrors where Louis XIV received guests and courtiers; the Grand Trianon – a flamboyant colonnaded 17th-century confection in pink marble; and Marie Antoinette's rustic model village and theater, the latter of which remains almost entirely unaltered since its inauguration in 1780. Designed by Louis XIV's gardener André Le Nôtre, the epic landscaped gardens are a museum in their own right. Here's where you can stroll paths and parterres that weave among the planet's largest collection of outdoor sculptures (over 220 to find, fact fans!), including the awe-inspiring Dragon Pool and its 27-meter-high fountain.
Save on entry to the Louvre, the Palace of Versailles and more
In town for a few days? Buy a 4- or 6-day Paris Pass and you won't have to decide which of these bucket-list titans to visit. The Paris Pass gets you entry to dozens of Paris attractions – including both the Louvre and the Palace of Versailles – for one money-saving price.