Being a tourist can be dicey with regards to finding reasonably priced and high quality dining options that are conveniently located. Not sure about you, but we usually brace ourselves to pay a lot for a little. The Monument Café hears us all loud and clear! In fact, their mission is to enhance your travelling experience with fine foods and a welcoming ambience.
And the best part? When you buy a Paris Pass, you'll receive 20% off your bill. In this attraction spotlight, we'll take a look at Monument Café locations in France, as well as find out how the company came to be, and what treats they have in store.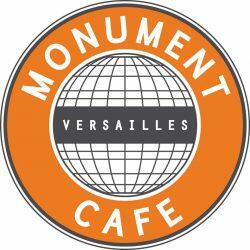 Image by Monument Café
Who They Are
Sometimes a bad experience can be the impetus for positive change. In fact, that's exactly what happened to Cyril and his family when they visited Pompeii. In 2009, after touring the fantastically preserved Ancient Roman ruins, they had no choice but to dine in a 'tourist restaurant'. The food was awful and overpriced. In addition, the service was non-existent and the restrooms weren't great. You might say that it was a total package of terrible.
The idea for the Monument Café was born. In essence, they wanted to offer the exact opposite experience as the terrible Pompeiian restaurant. Because, when life gives you lemons...
Their Philosophy
Their modus operandi is simple: the chain welcomes clients and tourists alike to a place where they, "can nourish their bodies, hearts and souls". In addition, they commit to environmentally responsible practices which include low food waste, as well as supporting local businesses and agricultural providers. Also, they align with the historical associations of the monuments they are located near. This means that staff have an insider scoop on the events that take place at each monument.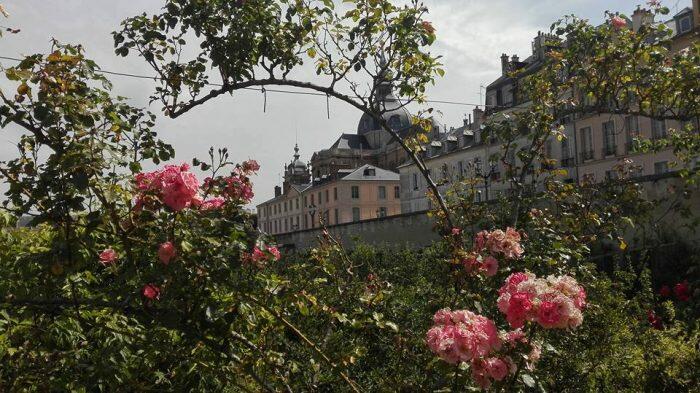 photo by Monument Café
Where are Monument Cafés located?
Monument Café locations are so well placed, they are almost a guide of 'must-see' places in France. In total, there are four cafés, all situated an hour or two outside of Paris. Café locations include:
Versailles
Although Versailles is King Louis XIV's magnificent palace, it is also the name of the surrounding town. Since the palace and its grounds are so expansive, most tourists take the train directly back to Paris after their visit. That's a shame, as the city of Versailles has a lovely historical downtown with plenty to see and do. Centrally located, the Monument Café offers guided tours of the city and also sells tickets to the palace.
Chateau D'Angers
Originally built in the 9th century, the Castle d'Angers' citadel was further elaborated upon in the 13th century. In addition, the Medieval fortress also features an impressive 17 towers, and houses the famous 'Apocalypse Tapestry'. Commissioned by the Duke of Anjou in the late 1370s, the immense tapestry tells the tale of the Apocalypse from the Book of Revelations. It is considered to be one of the great surviving works of art from the Middle Ages.
Chambord
Also located in the beautiful Loire Valley, Chambord Castle is a jewel of French Renaissance architecture. The castle's construction began in 1519, under the reign of King Francis I, who wanted to use it as a hunting lodge. However, due to conflict and the death of the King, the castle eventually fell into decay. It wasn't until the mid-1600s that the French monarchy took up the torch again, and it was finally completed during Louis XIV's reign.
Saint-Germain-en-Laye
Saint-Germain-en-Laye is located in the Parisian suburbs and is easily accessible via the RER A train. It is the name of the commune and the magnificent castle, which is just footsteps away from the train station. Once a Royal City, the castle was built in the Middle Ages and has been reconstructed and renovated many times since. Currently, it is the home of the National Museum of Archeology. Also, the parks surrounding the castle are open to the public and free of charge.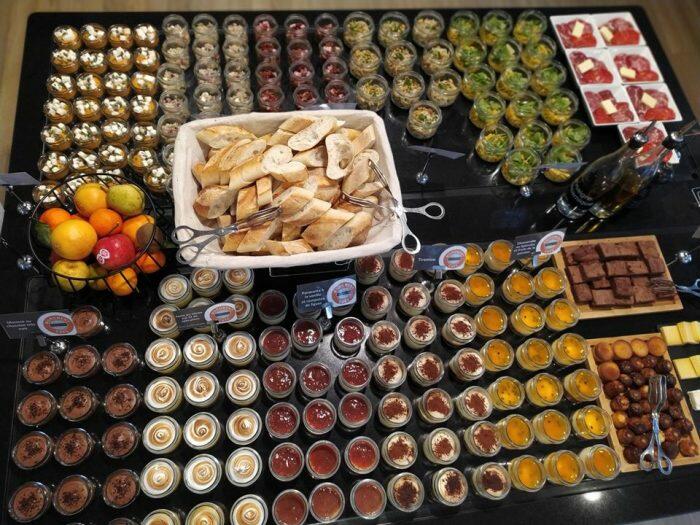 Photo by Monument Café
Menu Options
To begin, the Monument Café offers traditional French cuisine with a modern twist. All of their locations have a buffet-style setup, where side dishes and desserts are served in small glasses. They have an 'all you can eat' selection as well as other meal combos. Notably, they provide organic and healthy meals, with both vegetarian and gluten-free options. Junk food addicts beware, there are no fries to be found at the Monument Café.
However, it's not all salads and quinoa. They also serve hot meals, that are presented individually in small pots. While menu options vary, the hot meals are usually meat and fish-based, served with vegetables. Something for everyone! OK, maybe not for French fry lovers...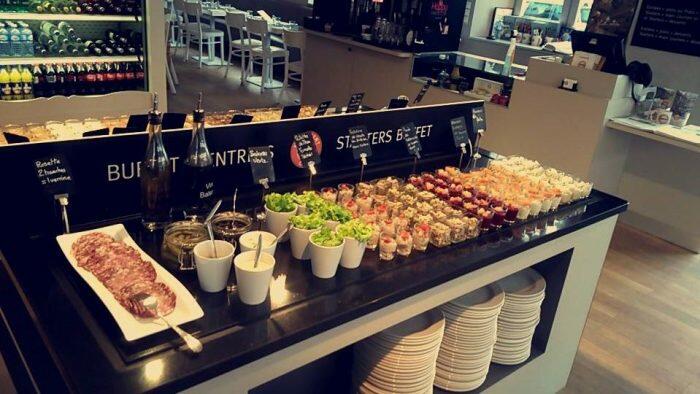 Photo by Monument Café
Your Monument Café Experience
If you happen to be visiting any of the wonderful and historic cities where Monument Cafés are located, don't miss the chance to have a 'soul food' fix. Healthy and hardy food is always a good idea when you're trying to see and do it all. Also, a well deserved rest and treat could be well worth your while!
Café Locations
Address: 1 rue du Maréchal Joffre, Quartier Saint-Louis, 78000, VERSAILLES
Hours of Operation:
Monday- Thursday-  11:00 a.m. – 4:00 p.m.
Friday- 11:00 a.m. – 10:00 p.m.
Saturday- 9:00 a.m. – 10:00 p.m.
Sunday- 9:00 a.m. – 7:00 p.m.
Address: 2, Promenade du Bout du Monde, 49100, ANGERS
Hours of Operation: 
May- Mid September-  9:30 a.m - 6:15 p.m.
Mid-September - April- 10:00 a.m. - 5:15 p.m.
Address: Place Saint Louis, 41250, CHAMBORD
Hours of Operation: 
May - September- 9:00 a.m. - 6:00 p.m.
Address: Terrasse Le Nôtre – Parc du Domaine national de Saint-Germain-en-Laye, 78100, SAINT-GERMAIN-EN-LAYE
Hours of Operation: 
Wednesday - Sunday- 10:00 a.m. - 9:00 p.m.