Short for 'flammekueche', Flam's is a restaurant chain based in France that serves food and beverages from the Alsace region. With several restaurants located all over the country, its safe to say the venture was a success! But, where is Alsace? What dishes and beverages are they known for? What makes it so special? In this article, we'll answer all of these questions and more, as well as take a peek at why people are so fond of the restaurant chain.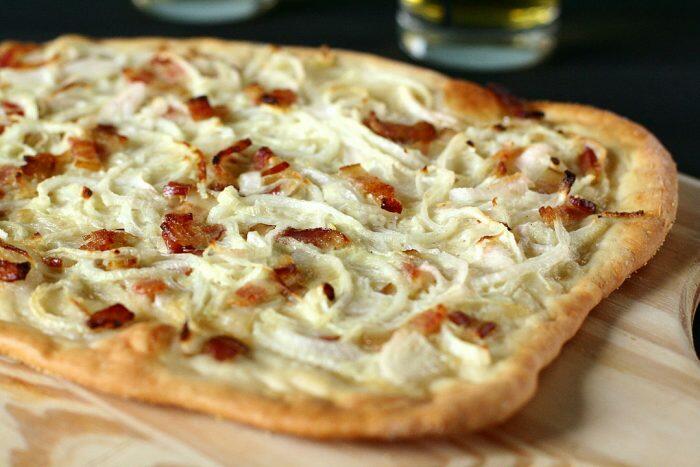 What is 'Flammekueche'?
The short answer is that it is the Alsatian/ German version of pizza. Translated it flammekueche means, 'flame cake'. Originally this was a hearty farmer's meal. It didn't make its way to the major cities until the 1960s. Made in either rectangular or oval shapes, the pastry crust is thin. However, instead of using tomato sauce/paste as a base, the recipe calls for white cheese, or crème fraîche (kind of like sour cream). Also, the traditional flammekueche is garnished with onions and fatty bacon. In addition, a true 'flame cake' is cooked in a wood burning stove. Absolutely delectable! 
Naturally, variations of the dish exist. There are dessert versions with apples and cinnamon, as well as flambéed with Calvados, an apple or pear brandy. Other popular versions include: the Forestière (with mushrooms), the Munster (with Munster cheese), and Gratinée (with Gruyère cheese).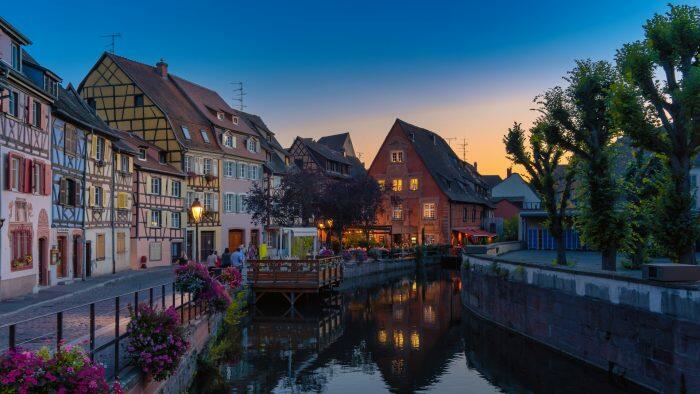 Alsace: A Brief Overview 
To begin, Alsace is a region that is located in the north-eastern part of France and is right on the French/German border. The land is characterized as being fertile with many vineyards, wooded, with the Vosges Mountains that reinforce its borders. Many people still think of Alsace as 'country living', they are not all wrong. Although the region does have several major cities, and thriving industry.
The history of Alsace can be comparable to tug of war between two nations. With the defeat of France in the Franco-Prussian war in 1871, the territory was annexed back to Germany. However, with the defeat of the Germans in WWI, part of the treaty of Versailles entailed the return of the land to France. Enter WWII. Once again, Germany took back Alsace, and one again it was designated a French territory after conflict's resolution.
However, the German influence is still very much present in the region. For example, the Alsatian dialect is not exactly French, but neither is it German. In fact, the language is a combination of the two. In 1985, the dialect was at last officially recognized as one of the country's regional languages. Although primarily spoken by the older generations, some words and phrases are still commonly used in everyday life.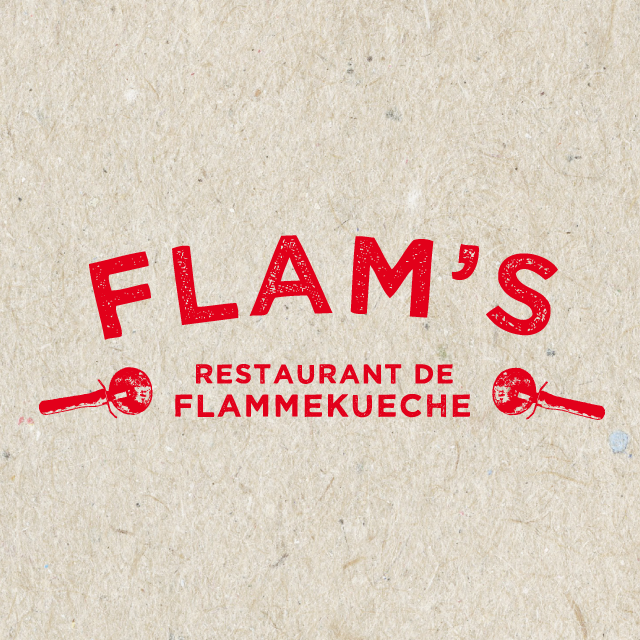 Logo by Flam's
Origins of the Chain
It all started when two childhood friends, later co-workers at Danone, started dreaming of opening a restaurant together. It took 10 years, but Eric Senet and Franck Riehm finally realized their dream. In 1990, the doors of their first restaurant opened in Strasbourg. Evidently it was a success, because only 3 years later they opened another location in Lille. In total, the restaurateurs now have 14 restaurants throughout France. Undoubtedly, people love everything to do with Alsace!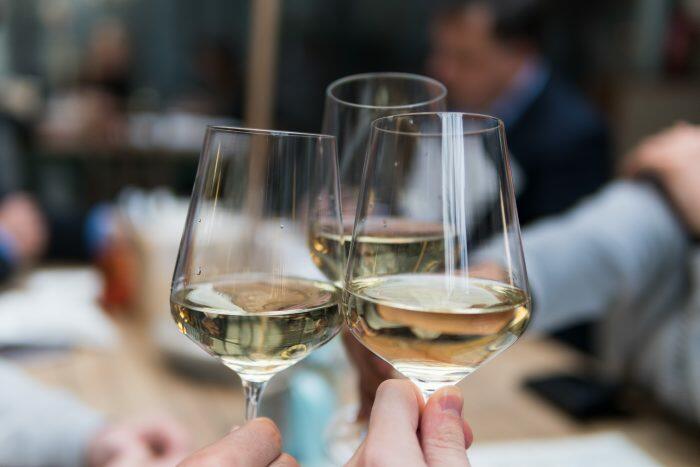 The Menu and Drink List with a Alsatian Twist
We've already spoken at length about the flammenkueche, but we didn't mention that Flam's has created their own modern twist on the classic. There are vegetarian and fish options! What else is there to tempt your tastebuds? For starters, fresh and warm goat's cheese salads are on the menu. Also, they have a dish with spaetzles, an egg based pasta from the region. In addition, Flam's has a fabulous potato galette main, topped with white cheese and herbs.
Their wine list celebrates many of the famous wines of Alsace and features: Edelzwicker, Riesling, Gewurztraminer, and Pinot gris. Lest we forget the Kronenbourg! The famous brewery was founded in Strasbourg (Alsace) in 1664, and people still love their pale lager. G'sundheit! (cheers in Alsatian)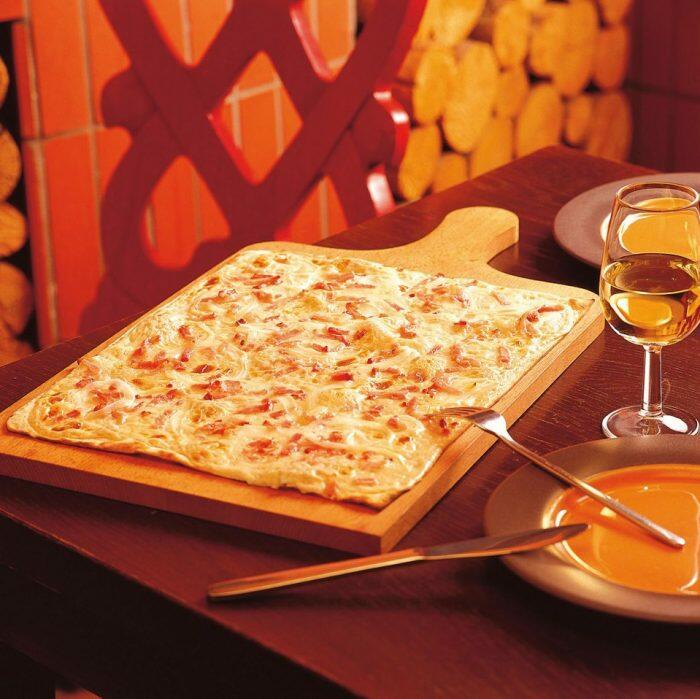 Photo by Flam's
The Particulars 
Flam's currently has 4 centrally located restaurants in Paris, these include: Châtelet, Saint Lazare, Grands Boulevards, and Montparnasse. In addition, they have other locations in: Bordeaux Bègles, Belfort, Erstein-Krafft, Grenoble, Lille, Lyon, Nantes, Roubaix, and Vendenheim.
Also, the decor of each restaurant has a minimalist, modern, yet inviting ambience. Each restaurant has a seating capacity of up to 250 people, and they are more than willing to accommodate private events as well as group reservations. In addition, they also host live musical happenings.
Interestingly, Flam's location at Saint Lazare (Paris) now offers a coworking space option for all those looking for an office away from their hotel or home. Cool, but we're reluctantly going to have to say no. Unfortunately the lure of the dessert flammekueche is too strong...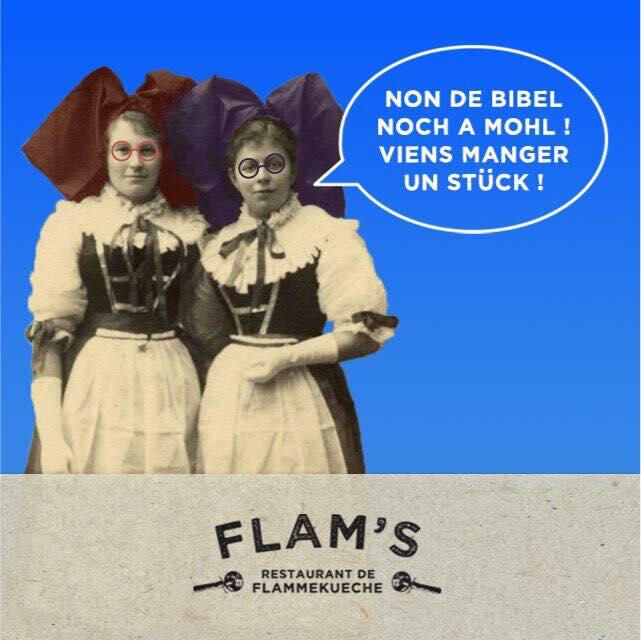 Image by Flam's
Your Dining Experience at Flam's 
If you want to experience the food and culture of Alsace without travelling to the other side of France, you're in luck! Flam's has over 25 years of culinary and hospitality experience, and they certainly have the flammekueche down to an art form. We hope this article has piqued your curiosity enough to give it a go! 
Parisian Flam's Locations and Hours of Operation
Address: 62 rue des lombards,75001, PARIS 
Hours of Operation: 
Sunday - Thursday-  11:45 a.m. - 11:30 p.m.
Friday - Saturday- 11:45 a.m. - 12:00 a.m.
Address: 11 boulevard Montmartre, 75002, PARIS 
Hours of Operation:
Tuesday - Friday- 11:45 a.m. - 3:00 p.m. // 6:30 p.m. - 11:00 p.m.
Saturday- 11:45 a.m. - 12:00 a.m.
Sunday- 12:00 p.m. - 9:30 p.m.
Address: 101 sur Saint Lazare, 75009, PARIS 
Hours of Operation: 
Monday - Friday-  11:30 a.m. - 3:00 p.m. // 6:30 p.m. - 11:00 p.m.
Saturday- 12:00 p.m. - 12:00 a.m.
Sunday- 12:00 p.m. - 4:00 p.m.
Address: 32 avenue du Maine,75015, PARIS 
Hours of Operation:
Monday - Thursday- 11:30 a.m. - 11:00 p.m.
Friday - Saturday- 11:30 a.m. - 12:00 a.m.
Sunday- 11:30 a.m. - 11:00 p.m.
Get a 15% Discount with the Paris Pass!
Looking for other food options in Paris? Please check out our article on the '10 Best Bistrots in Paris'!