The Centre Pompidou isn't just any building in Paris; it's a standout landmark that's famous (and a bit notorious) for its unique, kinda inside-out architecture. This isn't your average museum look – with its colorful pipes and industrial vibe, it really makes you stop and stare. But, the real magic of the Centre Pompidou isn't just its looks; it's what's inside that counts. 
This place is like the European champion of modern art, giving even New York's Museum of Modern Art (MOMA) a run for its money. It's not just one of the top art galleries in Paris – it's a heavyweight in the global art scene. When you step inside, you're stepping into a world of artistic wonders that will both inspire and puzzle you in the best way possible.
Now, let's talk art. The Centre Pompidou is like a treasure chest bursting with thousands of pieces of art, covering all the cool movements you've heard about. You've got Pop Art – think Andy Warhol and his soup cans, making the ordinary look extraordinary. Then there's Cubism, where artists like Picasso and Braque will make you see the world from a new, fragmented perspective. But that's just scratching the surface.
You'll also find masterpieces from surrealists who'll take you on a dream-like journey, and abstract artists who challenge you to find meaning in shapes and colors. It's a place where every corner you turn, you're bound to run into something that makes you think, feel, and maybe even question what art is all about.
And it's not just paintings. The Centre Pompidou in Paris is big on all forms of modern art. There's sculpture, photography, new media – you name it. It's a place where the past, present, and future of art mingle together, giving you a 360-degree view of the creative world.
So, when you visit the Centre Pompidou, you're not just visiting a museum. You're stepping into a world where art lives and breathes, where every work tells a story, and where your imagination can run wild. It's more than a gallery; it's a journey through the heart and soul of modern art. And who knows? You might just leave feeling a bit more inspired and a lot more intrigued about the world of art.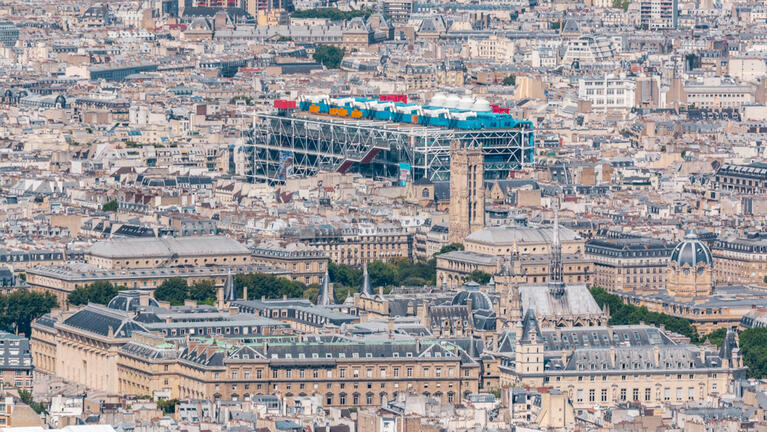 But before you go, here are 25 facts and figures about Centre Pompidou to give you a bit of insight.
Unique Design: The Centre Pompidou has a super unique design that turns the usual building inside out. All the pipes and structures are on the outside, painted in bright colors.

Cultural Hub: It's not just an art museum. It's a big cultural center with a huge library, music and acoustics research center, and more.

Named After a President: It's named after Georges Pompidou, a former French president who really wanted a modern art cultural center in Paris.

Opened in 1977: The building opened up in 1977, and since then, it's been a big hit in Paris.

Huge Public Library: There's a massive public library inside, with over 400,000 books. It's a dream for book lovers!

Stunning Views: The top floor has an amazing view of Paris, including a cool look at the Eiffel Tower.

Famous Architects: The design was created by Renzo Piano and Richard Rogers, two really famous architects.

High-Tech Look: Its high-tech architecture style was super groundbreaking when it was built.

Millions of Visitors: It attracts around 3.5 million visitors each year. That's a lot of people!

Modern Art Treasures: The museum has one of the largest collections of modern and contemporary art in the world.

Colorful Exterior Pipes: The exterior pipes are color-coded: green for plumbing, blue for air, yellow for electricity, and red for circulation elements.

Innovative Exhibits: It's known for its cutting-edge and sometimes controversial art exhibits.

Cultural Events: They host loads of cultural events, like movie screenings, concerts, and lectures.

Kids' Workshops: There are cool workshops for kids to get creative and learn about art.

Stravinsky Fountain: Right next to it is the whimsical Stravinsky Fountain with playful sculptures.

Environmental Consideration: The building uses external shading to control heat and light.

Global Influence: Its design has influenced other high-tech buildings around the world.

Public Debate and Controversy: Its unusual design sparked public debate and controversy when it first opened.

Renovations for Preservation: The Centre Pompidou has undergone renovations to keep it in tip-top shape.

Accessible Art: It's known for making art accessible to a wider audience, not just the elite.

Multimedia Collection: There's a massive multimedia collection, including films, music, and more.

Architectural Icon: It's become an icon of 20th-century architecture.

Art from Around the World: The art collection includes works from all over the globe.

Interactive Experiences: Many exhibits are interactive, making it a fun experience.

Heart of Parisian Culture: The Centre Pompidou is considered a heart of Parisian cultural life.
Check out some of what makes the Centre Pompidou unique below: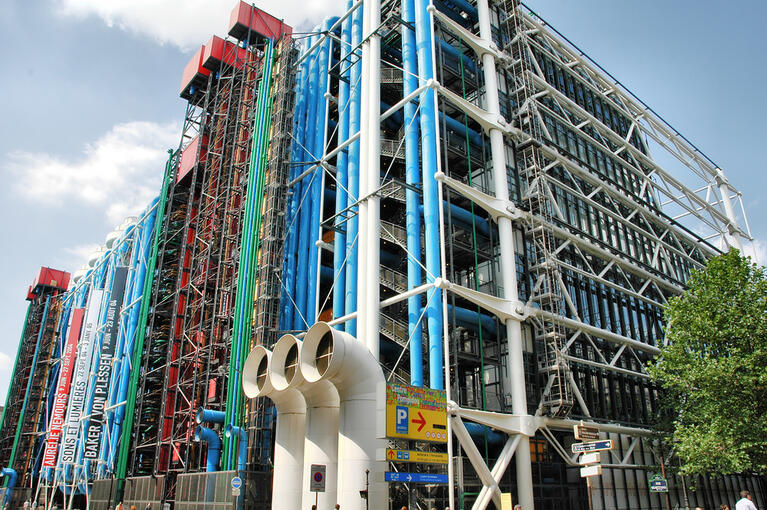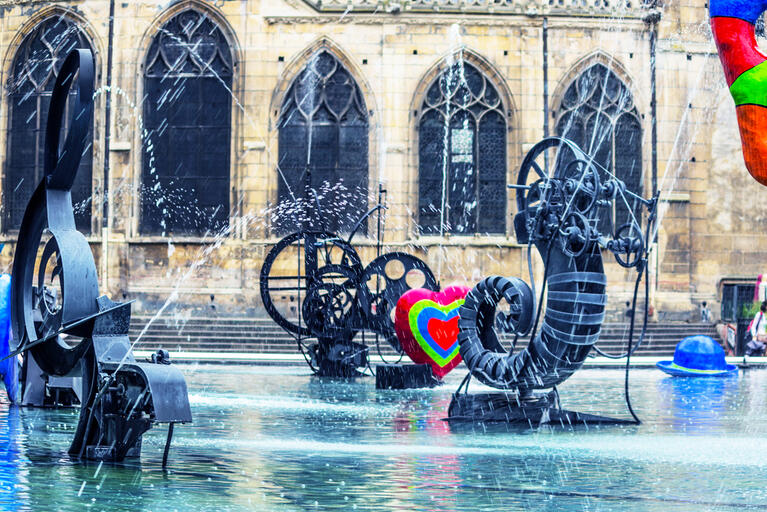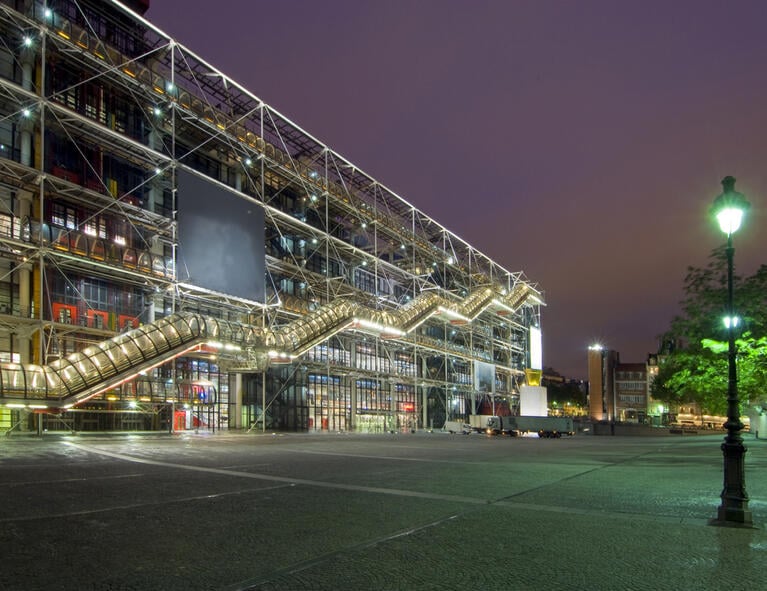 Centre Pompidou Exhibitions
1. Posy Simmonds: Dessiner la littérature
Dates: 22 November 2023 – 1 April 2024
Location: Bpi, Level 2
About: This free temporary exhibition celebrates the work of Posy Simmonds, a UK-born author known for pioneering graphic novels like "Gemma Bovery" (1999) and "Tamara Drewe" (2007). The exhibition features 130 original pieces, including never-before-seen drawings, sketches, annotated notebooks, and excerpts from films, showcasing Simmonds' keen observational skills, attention to detail, and caustic view of contemporary society and mores​​.
2. Picasso: Endlessly Drawing
Dates: 18 October 2023 – 15 January 2024
Location: Gallery 1, Level 6
About: Marking the 50th anniversary of Pablo Picasso's death, this exhibition, in collaboration with Musée National Picasso–Paris, focuses on his most prolific medium: drawing. It features nearly a thousand pieces, including sketchbooks, drawings, and engravings, some being displayed for the first time. This exhibition offers a peek into Picasso's private, compulsively kept diary of artistic innovation​​.
3. Body to Body: Photographic Stories
Dates: 6 September 2023 – 25 March 2024
Location: Gallery 2, Level 6
About: This temporary exhibition presents over 350 photographs and documents by approximately 120 photographers. It provides unique insight into photographic portrayals of the human race from the 20th and 21st centuries, creating a dialogue between the public collection of the Musée National d'Art Moderne and the private collection of Marin Karmitz​​.
4. Gilles Aillaud: Political Animal
Dates: 4 October 2023 – 26 February 2024
Location: Gallery 3, Level 1
About: Gilles Aillaud, a multifaceted artist who turned to painting, poetry, playwriting, and set design after failing to become a philosophy teacher, is the focus of this exhibition. It explores his work from 1964 to 1988, reflecting on political issues and the monitoring of individuals in modern society, resonating with the ideas of Guy Debord and Michel Foucault​​.
5. Chagall At Work: Drawings, Ceramics, and Sculptures 1945-1970
Dates: 4 October 2023 – 26 February 2024
Location: Western Gallery, Level 4
About: This exhibition showcases a collection of 127 drawings, five ceramics, and seven sculptures by Marc Chagall, encompassing three themes: preparatory sketches for the "The Firebird" ballet, models for the ceiling frescoes in the Opera House, and a variety of ceramics, collages, and sculptures. These works demonstrate Chagall's post-World War II artistic endeavors and offer a glimpse into his private studio life​​.
6. Marcel Duchamp Prize 2023
Dates: 4 October 2023 – 8 January 2024
Location: Galerie du Musée and Galerie d'art graphique, Level 4
About: Established in 2000, this exhibition highlights the vibrancy of the French art scene by featuring the works of the most representative artists of their generation. This year's nominees are Bertille Bak, Bouchra Khalili, Tarik Kiswanson, and Massinissa Selmani, showcasing the diversity of contemporary French artistic production​​.
7. Capital Image: New Technologies and Economies of Photography
Dates: 27 September 2023 – 26 February 2024
Location: Galerie de photographie, Level –1
About: This free temporary exhibition, a joint artistic research project by Estelle Blaschke and Armin Linke, explores photography as a form of information technology. It addresses questions about the technologies and infrastructures necessary for managing and processing images and discusses the economic value of images in the context of new technologies and algorithms​​.

Don't Miss Out on The Magic at the Centre Pompidou
This fascinating modern art museum, gallery and library will have you entertained for hours. A staggering six floors of modern and contemporary art to admire, not to mention a roof top terrace to explore – it's no wonder Centre Pompidou is one of the most popular places to visit in Paris.
Now you can work out its color-coordinated exterior and make up your own mind on whether you believe it's a feat of modern engineering and architecture, or whether like some, you consider it an eyesore of an oil refinery!