If you're flying to Paris this year, you'll need to know what travel options you have to get from the airport to the city! In this guide, we'll break down the best ways to do it - best take some notes.  
Including:
Paris Airport to City Travel Options: Train 
Paris Visite travel pass
Paris Airport to City Travel Options: Buses
Paris Airport to City Travel Options: Rideshare
Paris Airport to City Travel Options: Taxis
Paris Airport to City Travel Options: Private transfer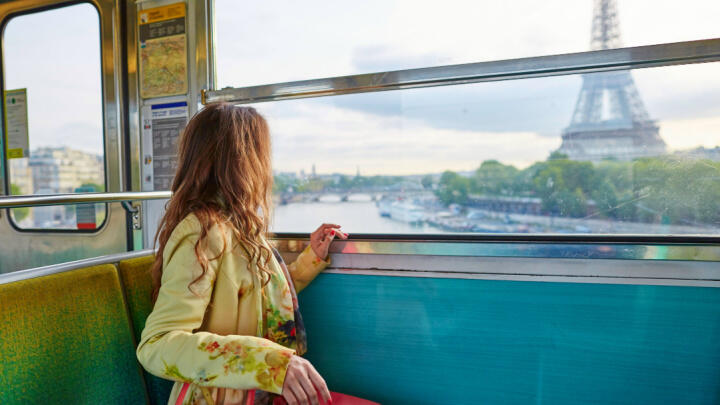 Paris Airport to City Travel Options: Train 
If you fly directly to Paris, you'll likely land at Charles de Gaulle Airport. It's Paris' only public airport, and nearly every international flight will land there. Thankfully, train services run directly from the airport to the city center, so catching a train is definitely an option. It's called the RER B, and we're going to learn all about it down below. 
All three terminals have train stations, and you'll find it easy enough to follow signs to find them. If not, there are information kiosks dotted throughout the airport that can help. However, if you land in Terminal 3, you will need to take a 5-6 minute shuttle bus to get to the nearest station, but they're free and run constantly. 
The trains themselves depart every 10-15 minutes, so you won't have to wait long. It won't take you long either, as a train from Charles de Gaulle to the city center should take around 25-30 minutes, depending on your destination. 
But what about cost? Well, adult tickets cost under €12, and kids travel for €8, which makes it a very cost-effective mode of transport. It is worth noting that you cannot book these tickets in advance. Instead, every station at the airport has ticket machines that accept international credit and debit cards. If you hate machines and would rather avoid using our future overlords, kiosks with humans are also at each station. God bless the human touch.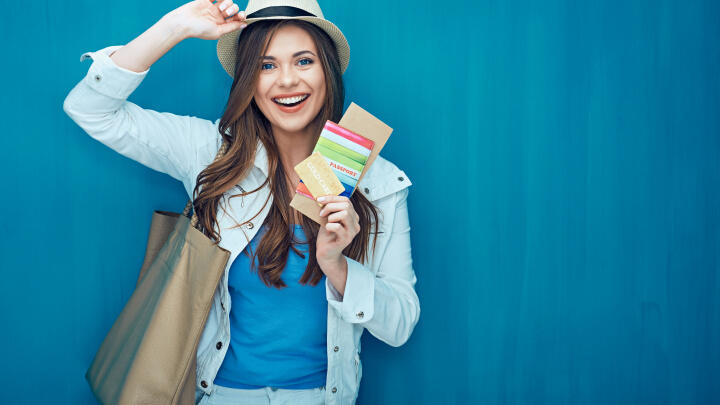 Paris Visite travel pass
Of course, if you plan to spend a few days in Paris and want to avoid buying ticket after ticket, you could purchase a Paris Visite travel pass instead. Pick the number of days you want to travel and play a flat fee for unlimited rides on all public transport. 
With the Greater Paris Area ticket, you can use it to get from the airport to the city center. However, the Greater Paris Area ticket is more expensive than the Paris Only ticket, so it's worth weighing up the cost benefits of using the pass when compared to the RER B's ticket prices.
As an example, a 5-day Paris Only pass costs under €44 for an adult, but increases to around €75 for the Greater Paris Area (which includes the airport). Describing the comparison can be tough, so your best bet is to check out the price comparison available on the passes website.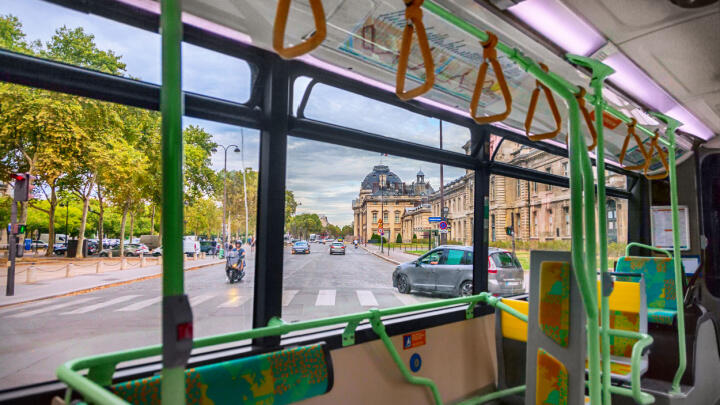 Paris Airport to City Travel Options: Buses
If you don't mind taking the slower, longer option on this list, then all aboard the bus express! Well, it's just a bus, but you can still hum the children's song as the wheels go round and round.  
The thing is, the bus isn't even the cheapest option available. Tickets are €15-€18, so it's more expensive than the train. It also takes an hour to reach Paris, and that's on a good day. The problem with buses is they're prone to traffic jams, and Paris is a busy city. 
However, if you insist, you can catch the Roissy Bus from every terminal; they run from 6AM to 8.45PM, leave every 15 minutes, and you can buy your ticket from the driver. But really, considering the other options on this list, is it worth lugging heavy travel cases on board, only to have a longer, more expensive journey? We think not.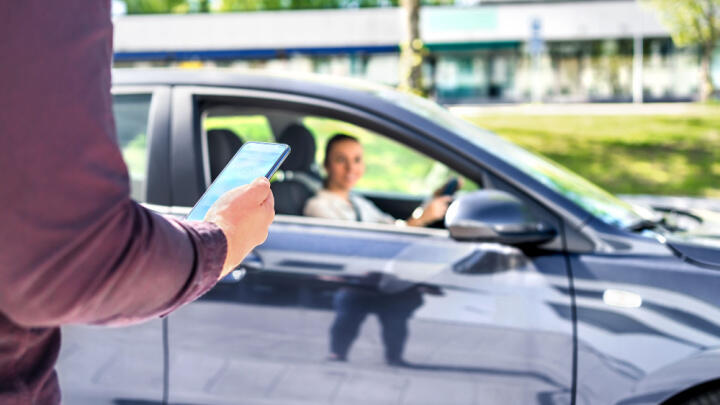 Paris Airport to City Travel Options: Rideshare
In this digital age, rideshare services like Uber are all the rage. Not only can you book ahead of time, but you'll also know the likely exact cost of your trip, avoid any tomfoolery regarding meters, and can follow your journey through GPS. So, if you're okay with spending a bit more, you can get a direct trip from the airport to your hotel or Airbnb.
Make sure you've got Uber or G7 (a Parisian booking app) installed before you book. Download them at home, or use the airport's wifi to get them when you land. Prices depend on the time of day and busyness, so we can't really give you an estimate. However, it should be close to €35-€40.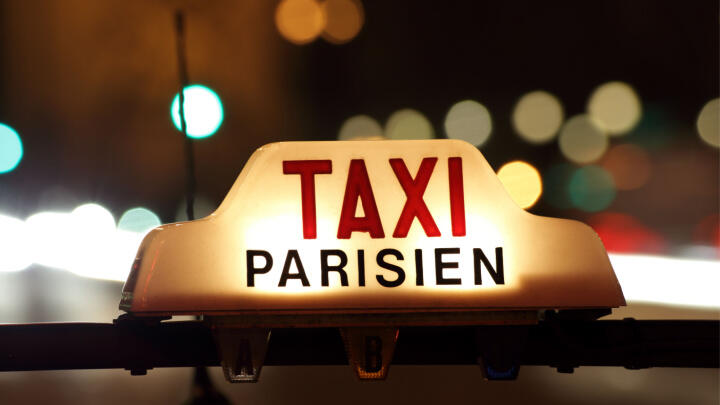 Paris Airport to City Travel Options: Taxis
If you prefer old-school classic over new-age progress, you could get a taxi instead. You'll find taxi ranks outside each of Charles de Gaulle Airport's arrival halls - just follow the signs. 
There are some things to bear in mind when booking. Firstly, taxis are legally obligated to use meters, but that doesn't stop some shifty sorts from avoiding these and trying to scam unsuspecting tourists out of their hard-earned money. Always discuss the fee/meter with a cab driver before getting in. If they refuse to use the meter, move on to the next one. You could even report them to the taxi company if you want some sweet revenge. 
Depending on your destination, expect taxis to be between €50-€60.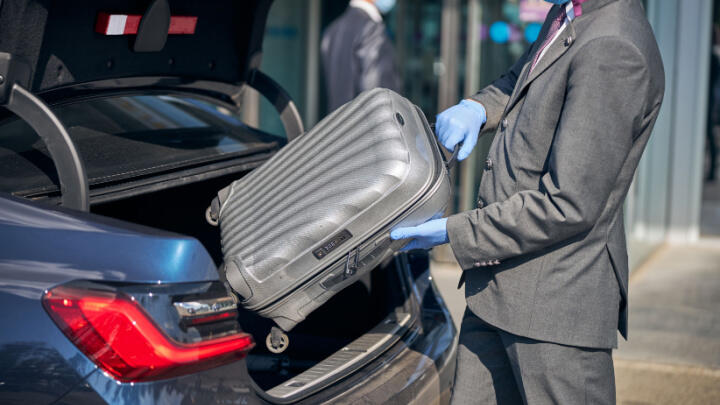 Paris Airport to City Travel Options: Private transfer
If you're looking for a more personalized experience, you can get a private transfer that'll pick you up from the airport, carry your bags to and from the car, and will tailor the experience to your needs. Fancy a chat? Most private transfer drivers speak fluent English, and they can fill you in on local hot spots or things to avoid. Need a bit of peace and quiet? Let the driver know, and they'll leave you to it. 
Such a personalized experience will set you back a few more euros, but you can book your trip months in advance, so you can remove the cost from your vacation allowance entirely! With services like Welcome Pickups, you'll pay just shy of €70 for the privilege. However, those extra €10-€20 might be worth it for peace of mind. 
Now you know how to travel to Paris, you may need some vacation inspiration to fill out your itinerary. With the Paris Pass, you can see all the city's best bits for one low price!