How do you decide which places to visit in Paris in 4 days? To help you plan your trip to the French capital, here are our top tips for a memorable stay...
Paris is a romantic city, steeped in culture and history. With so many landmarks to see, museums to wander through and Parisian delicacies to indulge in, it can be overwhelming putting together any form of an itinerary. But don't fret, because we've scoured the scene and picked out the can't-miss activities that you need to put on your list.
Panthéon and the Latin Quarter
The
Panthéon
is located in the Latin Quarter, and this church was initially constructed with the ambition to rival St. Peter's in Rome and St. Paul's in London. Located in the 5
th
and 6
th
arrondissements, the Latin Quarter is a lively area of Paris. With its bistros and bustling student life, there are plenty of beautiful and interesting buildings to check out while you're there, such as the iconic Musée Cluny. Be sure to leave yourself around 3 hours to take it all in (including the Panthéon). Something to note: the Panthéon opening times change when it's raining.
Luxembourg Gardens
A short walk from the Panthéon, the Luxembourg Gardens form one of the most beautiful parks in Paris, with numerous benches to relax on. You may also see some art students here, painting some of the gorgeous scenery. If you're tired of walking, there's a tube station right outside the gardens, called Odeon.
Notre Dame Cathedral
First of all, just to dispel any myths, you're probably not going to see any hunchbacks hiding in 
the cathedral
, but what you will see is a mesmerising construct that truly encapsulates the Gothic design. People travel from far and wide to walk around this incredible landmark and to see some of the gargoyles that adorn its roof. It can be pretty busy, but you may get lucky depending on what time you visit.
Gustave Moreau Museum
This
fascinating museum
was designed by the painter himself, and in it, you'll find a number of his famous paintings, as well as various artefacts from his travels, such as an entire room dedicated to unrequited love. This entire place offers an insane insight into this very colourful character.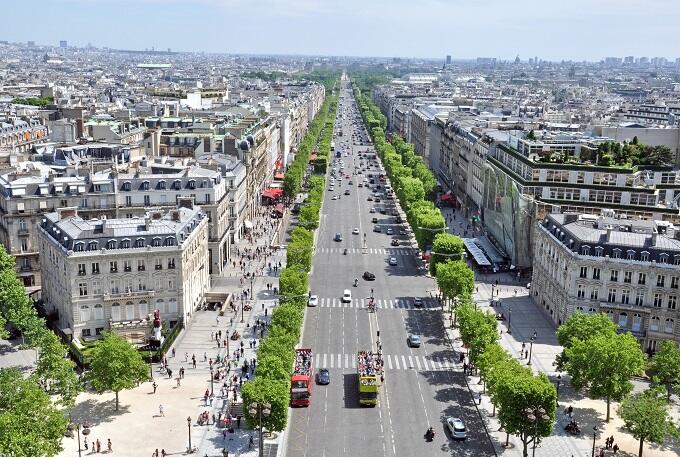 Champs-Élysées – Shopping!
This is a magnificent shopping area in Paris, and a real treat for the senses. Just down from the
Arc de Triomphe
, there are plenty of architectural delights, a vast network of side streets to wander around, as well as modern chain stores. If you work up a hunger from browsing the clothing racks, there are copious bars and restaurants around, so you'll have no trouble refuelling.
L'Atelier Renault for Food
Located in the middle of the Champs-Élysées, this is the perfect place to kick back and soak up the atmosphere. Sit down for a tasty meal in the trendy restaurant, and extend your visit to the bar and exhibition space, should you wish. This place is from the makers of Renault cars, so it's an absolute must for motor fans.
The Eiffel Tower
This nation-defining tower doesn't need an introduction at all, but will obviously feature on your list of places to visit in Paris in 4 days. Admire it from numerous locations citywide such as the
Montparnasse Tower
or pay to go up the tower to enjoy spectacular views of the city. Don't miss the transparent floor on the first floor or Gustave Eiffel's old office at the very top. If you're scared of heights, as you can imagine this probably isn't for you.
Wine Tasting Tour – Les Caves du Louvre
You'll probably hear wine-tasting suggested a lot... after all, it would be pretty rude not to sample the local delights, right?
This particular tour
is a real gem, and you'll be able to brush up on your technique from a trained sommelier. So, there are some of our top picks of places to visit in Paris in 4 days. We're sure that you'll be able to enjoy a good deal of variety with our suggestions, and it certainly pays to plan in advance to make the most of your time in this phenomenal city. Did we miss out on your favourite attraction or activity? Let us know in the comments!