Translated as 'the evil house', the Palace of Malmaison is more charming than its name suggests. It was once the residence of Napoleon Bonaparte and his partner Empress Josephine. The imperial couple spent as much time together as they could, and the beautification of the gardens was one of Josephine's great joys. Join us as we take a look at the history of the palace, where we'll explore how it became a vital part in the personal and political lives of one of France's most famous power couples.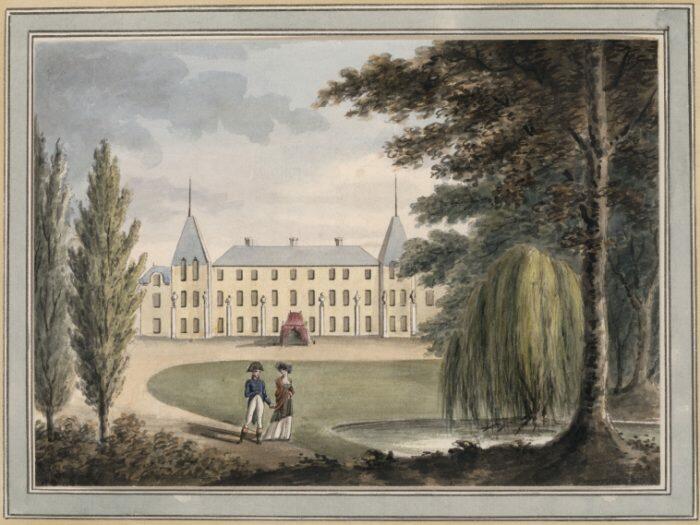 Malmaison's History
Located approximately 15 km (9 miles) west of Paris, Malmaison is stately yet perhaps not one of the grand castles and palaces that you'd expect an imperial couple to reside. Compared to the Palace of Versailles, it almost seems like a country cottage. And that was exactly the point. Though the imperial couple took possession of the property in 1799, its history dates back to the Middle Ages. 
According to the Museum's site, the first mention of Malmaison or 'Malus Dominus' (in Latin) appeared in 1244. However, historians are not exactly certain as to why. One theory is that the name could be linked to marauding Normans in the area who might have used the land as a hideout. What is known is that the land was bought by in 1390 by Guillaume Goudet, the Sergeant of Arms for King Charles VI. Remarkably, the property would remain in his descendant's possession until 1763.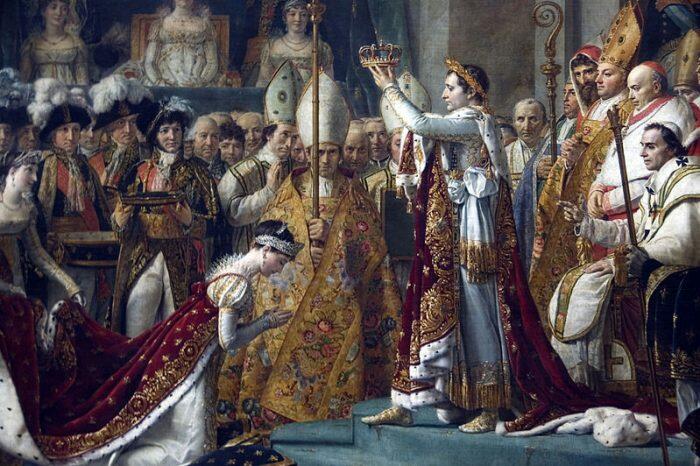 Napoleon and Josephine: Love, Politics, and Roses
Josephine and Napoleon were probably the unlikeliest of couples. To begin with, he was a serious and socially awkward General, who had already experienced some military success. Whereas Josephine was more refined, a widow with two children, who had been imprisoned and traumatized during the Terror of the first French Revolution. Josephine had friends in high places. In addition, she had social graces, beauty, charm and charisma outshone the awkward military man. They married in a quiet civil ceremony in Paris, March 1796. Josephine purchased Malmaison while Napoleon was away fighting a campaign in Egypt in 1799.
Upon his return from Egypt, Napoleon wasn't too pleased with his wife's purchase. The cost was immense and the Palace was in need of major renovations. And yet, he could refuse her nothing.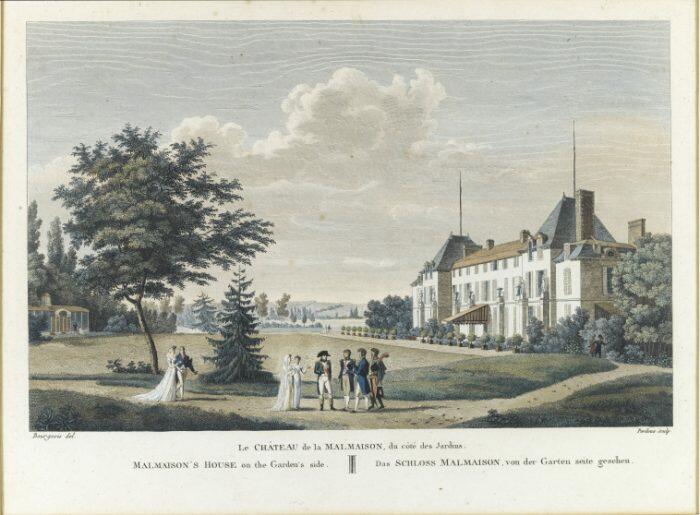 A Country Get Away?
Josephine yearned for her own little kingdom, close enough to Paris to be convenient and yet far enough away to get some respite from the pressures of public life, just as many royals had done even centuries before. In this respect, Malmaison was more than ideal. However, her expansion projects took on epic proportions and cost Napoleon an incredible fortune. For example, the original 60 hectares (148 acres) of land, was gradually expanded into a whopping 726-hectare (1,794 acres) estate after 15 years of ownership. 
In addition, Josephine had one of Europe's largest greenhouses constructed. She was fascinated with botany and imported 200 plus never before seen species of plants to France, some of them from her native Martinique. Also, she grew pineapples and oranges. In addition, she favoured English styled gardens and had over 250 kinds of roses planted on the grounds of Malmaison, of which she took great pride. That wasn't the end of it, Josephine built a sort of menagerie including black swans, llamas, a zebra, gazelles, ostriches, emus, etc. The creatures were free to roam the grounds, and it truly must have seemed like a paradise from another realm! Also, she had a 'Temple of Love' constructed in the park, which is still visible today.
Politics
Interestingly, Malmaison became the seat of government in France from 1800-1802. Napoleon convened in the Palace's library with his generals, ministers and advisors, and it was there that major decisions of state were made. In addition, Napoleon had over 13,000 books in his library! Soon enough, life would change drastically for the couple, and for France itself. In 1804, Napoleon declared himself Emperor and crowned Josephine Empress in a grand ceremony at Notre Dame Cathedral in Paris. 
"She Embellished My Life"
At this time, the Napoleonic wars were in full swing. The Emperor would conquer Egypt, Belgium, Holland, most of Italy, Austria, most of Germany, Poland, and Spain. The ambitious ruler was intent on creating a dynasty of his own. Unfortunately, Josephine was unable to give him an heir. This resulted in the dissolution of their marriage in 1809. During the divorce proceedings and in front of the French court, Napoleon would state that Josephine, "embellished my life for 15 years". There were many tears.
Though heartbroken, Josephine was given the Palace as well as other properties and a pension of 5 million francs per year to console herself. Also, she was able to keep the title of 'Empress', even after Napoleon remarried in 1810. Not too shabby! After the divorce, she retired from public life, though she still continued to entertain guests. Josephine died at the age of 50 in 1814 at her home, just one month after her ex-husband's defeat and abdication. After the Battle of Waterloo in 1815, Napoleon visited the Palace before being exiled, for the second time. One can only imagine how sad it must have been for the ex Emperor.
The Museum
In 1896, wealthy philanthropist Daniel Iffla bought the property and its park, which by then had already been downsized to 6 hectares (14 acres). Seven years later he donated it to the French State. It was opened to the public in 1905 as a Museum. Important restorations works were undertaken in the early 20th century to the Palace under the direction of the architect, Pierre Humbert. Now it is part of the French National Museums and is classified as an important Napoleonic historical site.
Every Saturday and Sunday at 11:00 a.m. the Museum hosts guided tours. In addition, they have children's programming and host temporary exhibits. Don't forget to check out their boutique on the way out! They have charming memorabilia, an immense selection of books, as well as many Napoleon and Josephine themed items.
Interesting to Note: Josephine and her daughter, Hortense, are both interred in the Saint-Pierre-Saint-Paul Church in Rueil-Malmaison. Both tombs have ornate marble sculptures, and many people still leave roses for la belle Josephine to this day.
Your Visit to the Palace of Malmaison
Travel back in time to the splendour of the Napoleonic area. You will surely and see for yourself why Josephine favoured Malmaison above all of the other castles and palaces in France. In the warmer months, it is lovely to wander the grounds and see Josephine's gardens where her roses still bloom. A visit to Malmaison is an unforgettable experience and a wonderful idea for a day trip!
How to get there from Paris:
Take the RER A train (direction Saint-Germain-en-Laye). Get off at the Rueil-Malmaison station, then board the 27 bus. After an eight-minute ride, the stop is: "Le Château". Cross the RN13 and return to the crossroads. Walk for nine minutes, the Palace is located on the right.
Address: Château de Malmaison, Avenue du Château de la Malmaison, 92500, RUEIL-MALMAISON
Hours of Operation:
Wednesday - Sunday
October 1st - March 31
10:00 a.m. - 12:30 p.m. // 1:30 p.m. - 5:15 p.m.
*Open until 5:45 p.m. on weekends
April 1st - September 30
10:00 a.m. - 12:30 p.m. // 1:30 p.m. - 5:45 p.m.
*Open until 6:15 p.m. on weekends
Ticket price: 6,50€
Temporary exhibition price: 8,50€
 Free Entry with the Paris Pass!