Not sure what you need to pack for Paris? We've got you covered with our essential guide and top tips!
Transport booked, hotel chosen, now you just need to decide what to pack for Paris. Some stylish clothes of course, and perhaps a phrase book, but what else? This guide will set you on the right track!
A day bag
You're going to be out and about all day exploring, taking photos, buying souvenirs, getting lost (sorry, "taking the scenic route"), so you'll need a decent sized bag to fit everything in. But not one so big that it's hurting your shoulders after half an hour in the
Pompidou Centre
or is too big to be allowed into
the Louvre
(their limit is currently 55cm x 35cm x 20cm). A small rucksack with enough space for your wallet, camera, map/guidebook and a bottle of water is ideal; even better if there's room for an extra layer of clothing in case of a sudden change in temperature outside. And on the way home at the end of your trip you could use it as an extra layer of protection around the deliciously stinky cheese we hope you'll be buying.
A hat
The average temperature in Paris in winter is around 5°C, and it's not uncommon for it to drop below freezing at night. But you won't want to be holed up in your hotel room from the moment the sun goes down – Paris is wonderful at night. A warm hat will allow you to continue your sightseeing long into the evening: a boat trip on the river, gazing up at the lights of the Eiffel Tower, or enjoying a post-dinner walk along the banks of the Seine. If you like a flutter, hop on a train to Chantilly for a day at the races. Hats aren't obligatory for the ladies, but a suitably adorned head will help you to blend in better with the chic French crowd as you sip your drink and cheer your chosen horse to victory. Paris in summer can get crowded, so when you need a break from the hot pavements and sweaty tourists, stick on your sunhat and pop down to the riverbank. Sand is spread across three different locations to create temporary beaches, complete with water sports, pétanque and live music to enjoy.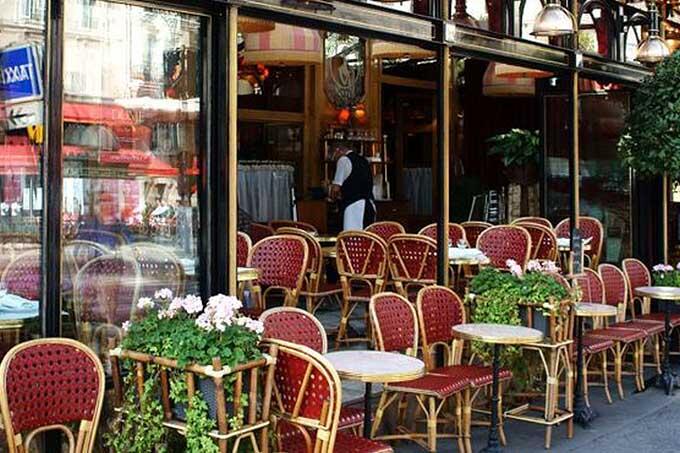 Image via Pinterest
A restaurant guide
When it comes to dining, Paris is
a food-lover's dream
. You could leave it to chance, just see what you like the look of in the area you find yourself in when you start to feel hungry. But if you want to make sure you sample the best the city has to offer, the real answer to the question of what to pack for Paris is a restaurant guide. There is, of course, the Michelin Guide, which covers more than just incredibly fancy restaurants charging more than a week's rent for a plate of ravioli. Their Bib Gourmand is awarded for "simple yet skillful cooking" that won't cost you your house, and there are plenty of such establishments in Paris. Although if you've got some money going spare, one of the city's many Michelin-starred restaurants is a good place to spend it. France is notoriously difficult for those of a non-carnivorous persuasion, but Aurelia D'Andrea's 'Vegetarian Paris' will help you avoid spending your whole visit eating plain baguettes. 'My Sweet Paris' by Caroline Mignot guides you through the desserts and confectionary beyond the traditional macarons of La Durée. For the atmosphere of times gone by, be sure to check our
our guide to Paris' oldest restaurants
for a tasty bite of history. If you don't have space/weight allowance in your luggage for the book you've bought, take photos of the relevant pages on your phone or tablet, or find a Kindle version. You could also bookmark the websites and blogs you've researched for easy access when you're away. Just don't forget your charger and European adapter.
Dancing shoes
Paris hosts lots of music festivals throughout the summer, so bring your dancing shoes and join in the fun. There's something for everyone: Villette Sonique kicks things off in May covering everything from indie pop to psychedelic rock; the Weather Festival in June is for techno and electronic fans while the Jazz Festival, also in June, and Rock en Seine in August are self-explanatory. The annual Fête de la Musique in July sees choirs, orchestras and other professional and amateur musicians performing a wide variety of music for free in public spaces around the city. Discover the
amazing events happening around the city this year
! We hope our suggestions of what to pack for Paris will help you enjoy your visit to this beautiful city.  Don't forget you'll also need your best French accent and a head for heights – that Eiffel Tower's pretty tall!